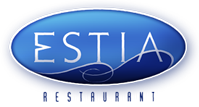 Henley Square
255 Seaview Road
Henley Beach SA 5022
8353 2875
Website
Instagram
Estia is Adelaide's Greek food specialist at Henley Square.
Whether sitting outdoors on a balmy summer's night or indoors by the roaring winter fire, Estia offers you a chance to experience traditional Greek dining by offering you a range of select dishes known as Mezethakia.
Sit back, relax, enjoy an Ouzo and the atmosphere, take in the great view and you could be mistaken for thinking you're on the Greek Islands.
Book on line : http://bit.ly/1XCn9nW, or phone.