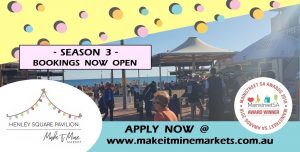 The Henley Square Market is held on the last Sunday of every month, September – May, 10am – 3pm in the carpark at the rear of Henley Square Pavilion.
Speciality stalls, art, craft, fashion
Food
Music
Kid's Activities and Rides
Next market Sunday September 29 – the first one for Season 3.
More info here.