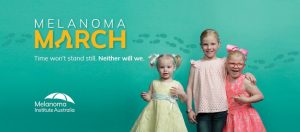 Every five hours, one Australian dies from melanoma. Time won't stand still and neither will we. Take steps to end melanoma – join our March for a cure.
Join us at Henley Square for Melanoma March Adelaide! This family-friendly event brings the whole melanoma community to raise awareness and funds for melanoma research.
This is your opportunity to remember those lost to melanoma, support people with melanoma and inspire all Australian to help end melanoma.
All funds raised will go towards crucial research dedicated to finding a cure for melanoma.
More info here.